This is how they cheated. True The Vote has the video. 4.8 million harvested ballots in swing states.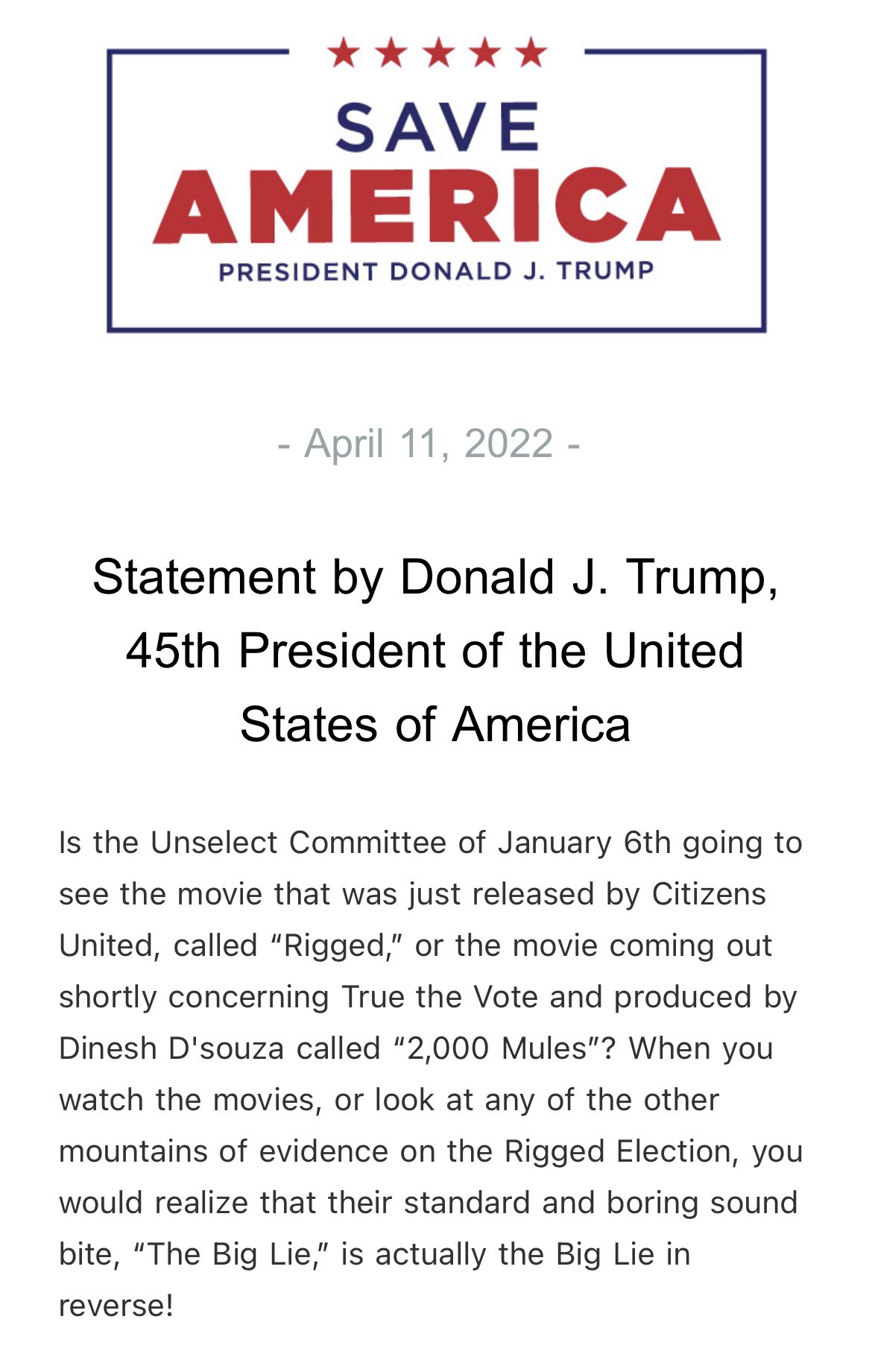 Trump issued this statement today
---
This is how they cheated. True the Vote has the receipts, on video.
Catherine Engelbrecht and Gregg Phillips on The Charlie Kirk Show
Short highlights below…
These are felony election law violations caught on camera

And law enforcement is doing nothing about it pic.twitter.com/r0R9sSRVng

— Liz Harrington (@realLizUSA) April 11, 2022
Monster thread from Liz Harrington this afternoon.
I believe the videos are from 2000 Mules, the new Dinesh D'Souza documentary.
---
4.8 million ballots harvested in the Swing States alone

"It's everywhere." pic.twitter.com/nGMJv5tMZO

— Liz Harrington (@realLizUSA) April 11, 2022
In Philly, some mules made hundreds of trips to drop boxes pic.twitter.com/juXS1s9SLO

— Liz Harrington (@realLizUSA) April 11, 2022
The average ballot mule in Georgia made ballot drops at drop boxes 23 times pic.twitter.com/MQsJDgapqn

— Liz Harrington (@realLizUSA) April 11, 2022
Some mules trafficked ballots in November 2020, the January senate run-off, AND in 2018 pic.twitter.com/hV33y8cTOw

— Liz Harrington (@realLizUSA) April 11, 2022
This woman always wore gloves for her ballot drops

This drop in Fulton County, Georgia was for the January 2021 runoff at 1 a.m. pic.twitter.com/BayL2uFeZz

— Liz Harrington (@realLizUSA) April 11, 2022
"Wake up, America. It's happening, and if we don't stop it, if we don't say, 'We demand clean voter rolls,' we demand accountability around the process then this slide will continue." pic.twitter.com/MHFPQTOuzX

— Liz Harrington (@realLizUSA) April 11, 2022
Stay tuned 🍿 pic.twitter.com/XBUsMZIg8V

— Liz Harrington (@realLizUSA) April 11, 2022
Statement by Donald J. Trump, 45th President of the United States of America pic.twitter.com/MHWmmFjQo9

— RSBN 🇺🇸 (@RSBNetwork) April 11, 2022