Car plows through Waukesha Christmas parade…
Darrell Brooks, the suspect in the Waukesha attack, admitted to being a child sex trafficker on video. pic.twitter.com/Y3LrrVEEOl

— Ian Miles Cheong @ stillgray.substack.com (@stillgray) November 22, 2021
Darrell Brook admits to pimping 16 year-old girl.
---
Darrell Brooks rap song — Originally Deleted by Youtube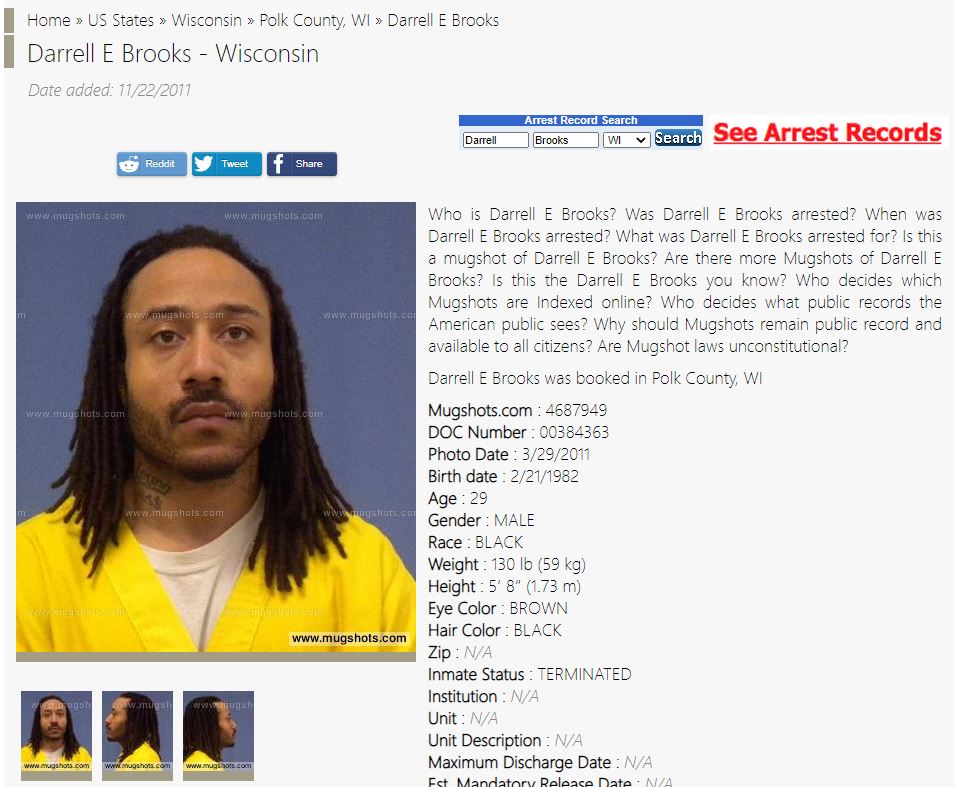 Darrell Brooks
Court Details — Criminal History
He was released from jail on $1,000 bond on Friday — Two days ago
---
---
His house & car.. pic.twitter.com/XH3ryVYdYq

— David Scott (@davidscottny) November 22, 2021
Darrell E. Brooks, black male, late 30s is the suspect in custody in Waukesha.

— Karol Markowicz (@karol) November 22, 2021
I can confirm, as I have his birthday, that this is the man in custody in Waukesha. https://t.co/5xlJEc34Rm

— Karol Markowicz (@karol) November 22, 2021
the deleted video pic.twitter.com/gFNZV5wV7j

— chaolin (@chaolin02651333) November 22, 2021
Eyewitness — 'It was a black guy with dreadlocks.'
---
First photo of driver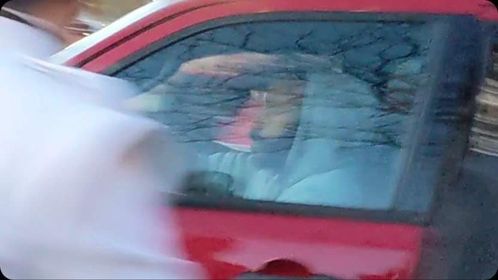 ---
At least 28 patients being treated at hospitals.
GRAPHIC: Video of car purposely impacting holiday march in Waukesha 🇺🇸 🚨 pic.twitter.com/I50v9aSa0p

— Houston Air Watch (@houstonairw) November 22, 2021
Warning Graphic Video
Police chief Dan Thompson now says he doesn't believe shots were fired from the SUV.  "However, an officer did discharge his weapon at the suspect vehicle to try to stop the suspect vehicle," he said.  No people were injured by the gunfire.
"We just heard screaming up the parade route and looked over, and the red jeep or SUV came barreling through," Michael Hurst, a woodworker from Waukesha whose son was almost hit by the truck, told Heavy in a phone interview. "I pulled my son away. He probably got missed by about a foot. There was a little kid next to us that got hit. I did see dead bodies. The amount of people who are going to be dead from this, it might even be worse than that Las Vegas shooting. They have a whole block of Main Street that is casualties."
The abandoned SUV was located by police officers in a driveway, according to scanner. An officer said that a bullet struck the windshield but there was no evidence anyone inside the vehicle was hit.
A woman wrote Heavy, "A relative lives in Waukesha, a black guy with dreads knocked on her door shortly after the incident at the parade. She wouldn't let him in and he proceeded to go across the street trying to break into a building. My daughter called 911 with a description and they said they think he was driving the SUV that drove into all the people." Police have not confirmed the suspect description, but they did describe the suspect as possibly being a "black male" on the scanner.
A law enforcement source said one of two suspects are in custody; another is being sought. The police chief, Dan Thompson, would say only that police have apprehended a "person of interest."
According to the scanner, police found the suspect's ID in the vehicle and a Ford key on him.
---
Mayhem on the streets…
Prayers for the people of Waukesha pic.twitter.com/UBKvGCDmYE

— El Lanky (@LankyEl) November 22, 2021
---
Vehicle recovered red Ford Escape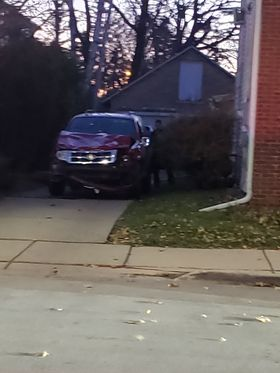 Video from mass casualty incident at a Christmas parade in Waukesha Wisconsin pic.twitter.com/YYtNqbBM0Q

— MelvinB📡 (@MelvinBGlobal) November 21, 2021
SUV speeds through Christmas parade in Waukesha, Wisconsin.  Initial reports of 30+ injured.
---
Moment when police fire on SUV as it speeds away from the scene.
WATCH: Shots are fired after a vehicle plows into a Christmas parade in Wisconsin pic.twitter.com/CIPa5xOd4U

— BNO News (@BNONews) November 21, 2021
Eyewitness account…
Red SUV runs through a holiday parade in Wisconsin. The initial description is many injuries. pic.twitter.com/L0CuRHL8jn

— Sarah Reese Jones (@PoliticusSarah) November 21, 2021
Video from the Nice Ash Cigar Bar, shared by @gxdia, showing the panic following the attack. pic.twitter.com/QiATqhQuRu

— Doge 🦃 (@IntelDoge) November 21, 2021
WATCH LIVE COVERAGE
LIVE: Multiple people injured when SUV plows into crowd at Waukesha Christmas Parade https://t.co/oxMuPFKzbt

— WISN 12 NEWS (@WISN12News) November 21, 2021
#BREAKING: Video shows a car speeding through the middle of a downtown #Waukesha, Wisconsin holiday parade. Initial reports of multiple people injured, as well as reports of gunshots. pic.twitter.com/G7qyKRvBzH

— Moshe Schwartz (@YWNReporter) November 21, 2021